So you're looking for a vacation rental in Sunny Barbados! .. or maybe a little bit more information about Barbados like where the
best barbados beaches
are, or just want to look at some
pictures
of Barbados.
Well maybe I can help you out a bit ...... I built a little place with two apartmentst on the West Coast of Barbados a few years ago that are available for vacation rentals.
The reason I built this website is to let you know that the apartments are available and an alternative to expensive Barbados hotels or villas.


Where are the vacation apartments located?
On the West coast of Barbados between Holetown and Speightstown.
Bridgetown the capital is about nine miles away and the airport is about seventeen miles from the property.
Are the vacation apartments on the beach?
Beautiful Gibbs Beach is only about a ten minute walk away.
Well known Mannies Suga Suga Beach bar that is on Mullins Beach is a little further along. If you don't know the area it's peaceful and quiet and has some of the best swimming to be found in Barbados.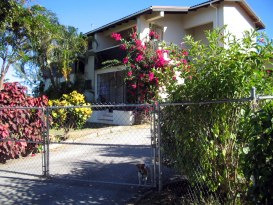 Can I save money renting directly from the owner?
The short answer is, yes!
Why is it cheaper to rent from the owner?
Because renting from the owner cuts out all of the middlemen's commissions ... most people don't realize how many people want a bit of the rental price, it adds up to a hefty chunk.
If you decide to rent from me (hopefully) or someone else, please check them out to make sure you're going to get what they offer and if satisfied go for it.
The other big advantage in renting from the owner is that many owners are flexible between the rate they advertise and the price they'll accept after a bit of discussion. I know I've done it many times.
Owners love repeat visitors ....
Even if they only come every few years, because in between visits they've been telling their friends about the great vacation they had in Barbados and where they stayed, providing word of mouth advertising, the best kind.
So .......
If you like the idea of saving money, and who doesn't, renting a self contained vacation property be it a - vlla, apartment, house, cottage or condo - in Barbados directly from the owner is the most economical way to do it.
The money saved could be well spent on other things such as ......

a car rental to see more of the real Barbados

dining out and entertainment

diving or snorkeling

duty free gift shopping

golfing at one of the beautiful courses
You could even save enough money to extend your vacation in Barbados .
To sum things up, if you want to save money on your vacation and if you are the adventurous type that likes to get off the beaten path and do your own thing you might be interested in finding out more about these Barbados vacation apartments for rent by owner.
I'll try to make the tour of this site as helpful as I can by providing lots of photographs, a few links of things that I have seen or done and many links to various places and services in Barbados.
copyright 2002 - 2013 sunnybarbados.net