The Solar Transport Project invites you to relax and take a trip through historic Bridgetown, Barbados like you have never done before.
We offer you a tour that no one else can. You will enjoy a smooth and relaxing ride in the Caribbean's first solar-powered environmentally-friendly tour vehicle.
Our solar shuttles are modern, airy and designed for comfort. Our solar shuttle tours will show you different aspects of historic Bridgetown.
Our friendly and experienced drivers and tour guides will take you in and out the downtown streets of Bridgetown to visit sites, historic buildings and monuments.
Barbados' rich culture and history will come alive on these tours to remember



Solar Transport Project Inc. made its Grand Launch in July 2005 with Bridgetown Solar Shuttle Tours.
We opened our doors with a big welcome to locals and tourist alike. We are currently accepting reservations and invite you to book now.
Our solar shuttles are the Caribbean's first solar-powered environmentally-friendly tour vehicles.
They are modern state of the art vehicles that are designed to be airy and comfortable. The red color gives them that distinctive look.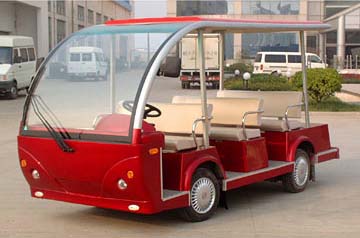 The solar shuttle has
photovoltaic cell
panels located on the roof that collect energy from the sun and converts it into electricity.
This electricity is used to charge the batteries located under a seat. The batteries drive the electric motor that powers the vehicle.
Unlike gas and diesel vehicles, our vehicles do not releae greenhouse gases that affect our climate.
Initially, we will only be offering Solar Shuttle Tours but we plan to expand in the near future to include other types of solar vehicle tours including solar bicycle tours.
Company Founder
Solar Transport Project Inc. has been the dream project of Mr. William Hinds for several years.
He is an expert in solar energy technology and is among leading developers in the region.
He started his career as the Founding President of the Barbados Association for Renewable Energy Science and Technology (BAREST) in 1983 when he was an undergraduate at the University of the West Indies, Barbados.
He was awarded a British Postgraduate Scholarship and completed his M. Sc. in Alternative Energy at the University of Reading, U.K.
During this time, he also launched Barbados' first Renewable Energy Exhibition and secured funding for a biogas rum refinery distillation project.
Mr. Hinds also had a parallel career in International Development working as a Development Officer for the Canadian International Development Agency and was Project Manager for the Solar Program at the University of the West Indies, Barbados.
The International Development and Renewable Energy Carrier merged when he conceptualized and carried out the initial design study for the Caribbean Renewable Energy Development Project (CREDP) valued at US $15,000,000 in grants and investments. He is also certified to install photovoltaic in Florida, USA.
He is a firm believer of saving the environment by exploiting renewable energy. Over his 20 years career, he has been applying solar energy technology to education in our school system and has worked on solar water heaters, solar dryers, wind farm design, wind turbines and incorporated photovoltaic into solar ice production (800 lb/day), football lighting, and computer power supply, just to mention a few.
His earlier design of a solar bike with generators on the wheels followed by Barbados' first solar powered vehicle (converted-golf cart) generated great interest by the public.
He felt that most of his solar projects were inaccessible to the majority of the public and as a result the forming of this company materialized.
During this time he also found time to write and publish a children's book using a story line of children at play to work analogies of day to day experiences into the description of how a solar water heater works.
This first book has been incorporated into the curriculum at several Barbadian schools. The manuscript for a second book in the series, on wind energy, has already been completed and is expected to be published shortly.
His goals, in this age of undesirable climate change and high energy costs as a result of scarce oil resources, are to help move Barbados towards a greater awareness of clean energy transport systems and to eventually have at least 2% or more vehicles in Barbados being solar powered.
He feels that every tour will contribute towards this cause.