Folkestone Marine Park is an underwater park that extends from Sandy Lane to Colony Club, you can rent gear for snorkeling around the fringe reef which is abundant with
many beautiful fish, or get a boat for diving.
Folkestone Marine Park features an artificial reef, purposefully formed by the sinking of
the ship Stavronikita which had been destroyed by fire in 1976.
The ship rests in 120ft of water, it's less than half a mile from the shore but diving the Stavronikita is recommended only for experienced divers.
Scuba divers can hire boats to take them out to one of the many dive sites in the area.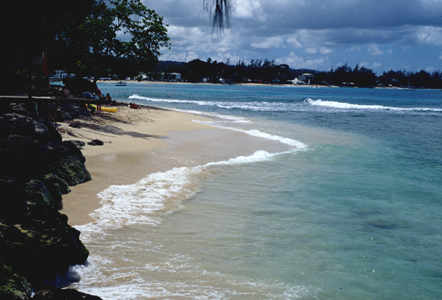 There is a small marine museum with coastal environment displays, exhibits of the islandís fishing industry and a salt water aquarium displaying interesting and rare marine species, including coral and sponges.
A lifeguard is on duty and there is beach security to prevent tourists fom being

bothered by people trying to sell unwanted things.




There are changing facilities also fresh water showers and toilets, picnic tables, a snack bar, and some shops.




A childrens playground can also be found at Folkestone.